Whale Watching & dolphin watching
Whale and dolphin watching in Mirissa is one of the most exciting water activities you can do in Sri Lanka during your holiday. Mirissa is the best place to start your whale and dolphin watching tour in Sri Lanka. In warm Indian ocean you can see Blue whales, Bryde´s whales, Sperm whales, Fin whales, sometimes Killer whales, and Common dolphins, Bottlenose dolphins, Spinner dolphins, Risso's dolphins and Striped dolphins. Sometimes you can see turtles and various fish species, for example Bluefin tuna and flying fish.

Scuba Diving
At Unawatuna Dive Centre, we have a team of diving certified diving instructors who can guide and help you to achieve your diving goals and much more.
You can enjoy perfect diving experiences from the end of October to the end of April here in the southern coast of Sri Lanka and from May to October on the eastern coast of Sri Lanka.
Unawatuna is one of the most popular destinations for travelers who visit Sri Lanka. The beautiful 2 kilometer long, white sandy bay is lined with coconut palms, small restaurants, and local handicraft shops. You can relax after your course or excursion in our restaurant and fill up on fresh seafood, fried rice or choose from a selection of sandwiches, soups and salads from our kitchen.

Surfing/Snorkeling
Unawatuna has a modest range of diving, snorkeling, surfing and other watersports on offer, with two good diving schools: Submarine Diving School, at the western end of the beach, and Unawatuna Diving Centre, around the bay to the east. Both offer the usual range of PADI courses, plus single and introductory dives and wreck and deep dives (there are no fewer than eight wrecks in the vicinity, including an old wooden English ship, the Rangoon, lying at a depth of 30m), though they're rather more expensive than in nearby Hikkaduwa. Diving is best between October and April.
You can snorkel off the beach at Unawatuna, although it's not wildly exciting; you might see a few colorful tropical fish, and there's a little patch of live coral where the waves break in front of the Submarine Diving School. The best two snorkeling spots are Rock Island, about 1km offshore, and around the headland facing Galle at Jungle Beach, where you'll find live coral and fish. For the former you'll need to hire the Submarine Dive School's glass-bottomed boat, which can also be used to reach Jungle Beach. Alternatively, Jungle Beach is reachable by tuk tuk, or by foot (though it's a convoluted 45-min walk, and very easy to get lost; ask for directions locally). Submarine rent out expensive snorkeling equipment, as do a couple of cheaper shacks on the beach nearby. Check all equipment carefully, as there are plenty of dud masks and snorkels in circulation. A lot of locals surf at Unawatuna, though the waves aren't nearly as good as at nearby Hikkaduwa or Midigama. Boards can be rented at the Submarine Diving School.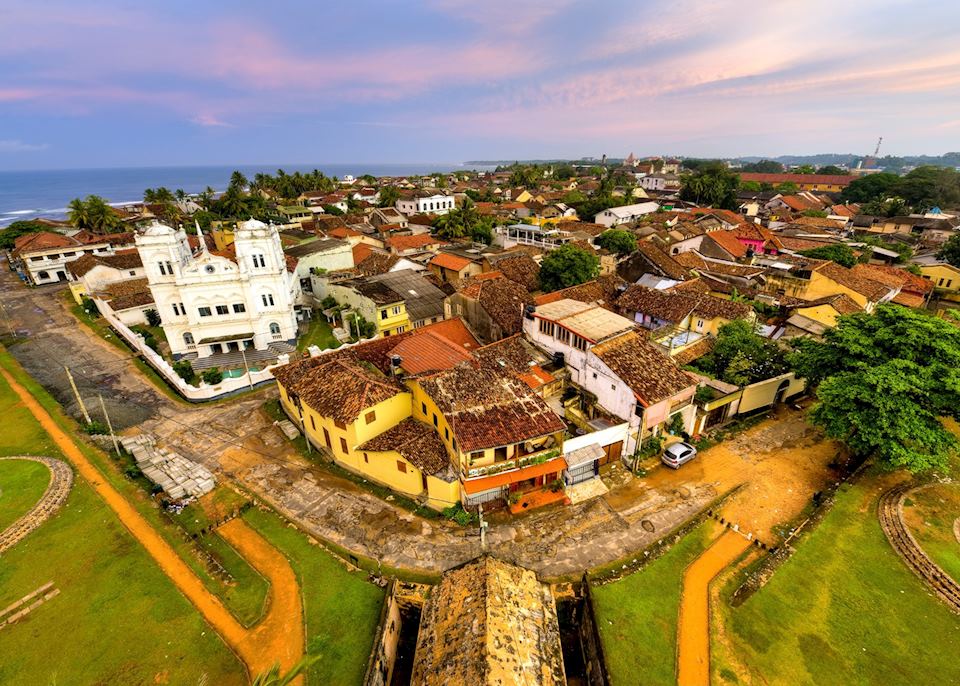 One day Galle City Tour
It is an excursion in the day to world Heritage city, Galle where you can witness colonial time ruins, Museum and famous Dutch fort including tilt fishing, Koggala river safari, Turtle Hatchery and a tea factory. The seaside town of Galle is 116 Km away from Colombo by road or rail, down the south coast of Sri Lanka. Both routes are picturesque, following the coastline closely for much of the way. Today's town has grown greatly and spreads into the surroundings but the Fort is the slow beating heart of Galle's history. The walled city has stood since the early sixteenth century, through the Colonial periods of the Portuguese, Dutch and British and in our present times is proclaimed as an Archaeological Reserve and has been identified as a living World Heritage Site. The etymology of the name Galle is explained as probably an altered form of the Sinhalese word "gala": a cattle fold or posting-place from which the Portuguese named it Point-de-Galle. The simpler and more popular theory is found in the similarity of the Sinhalese word: gala, for rock, which the Portuguese duplicated by adopting the Latin word: gallus, for rooster. They thus designed the coat-of-arms of the city as that of a rooster standing upon a rocky perch.

Safari
Yala Park is the 2nd largest wildlife park in Sri Lanka. The climate here is semi-arid with vast dry woodlands and open patches of grasslands and is divided into five blocks. Jeep Safari tour through the wildlife Park will be an unforgettable adventure, along with an odd chance of being charged at by a juvenile bull elephant! But as one will find out soon it's part of the daily routine of a young bull elephant and quite harmless. Park also includes wide varieties of wildlife and plants. Two large rivers flow through the park and are home to about 32 species of mammals, 125 species of birds, along with many reptiles and lagoon fauna species. The entrance fees are payable at the main entrance office and includes the services of a tracker. In our opinion Yala National park is the best place to see peafowl's in their best suits, monkeys chattering through the bush, elephants trumpeting through the undergrowth, elusive Sri Lankan leopards (Panthera pardus kotiya) gliding soundlessly through the bush hunting for their next meal, end of the dry season is the best time to see the animals around shrinking water holes.